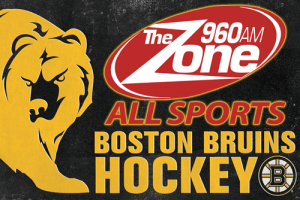 The Boston Bruins skate here on 960 The Zone.  Through out the season, you can get select games on 960 The Zone.  Other games throughout the season can be heard on our sister station 101.3 ESPN.
**DUE TO NHL RESTRICTIONS, 960THEZONE.COM IS PROHIBITED FROM STREAMING BRUINS GAMES**
Dave Goucher – Play-By-Play
Dave Goucher enters his 17th season of Bruins play-by-play on flagship 98.5 The Sports Hub. In 2013 Dave was named Massachusetts Sportscaster of the Year by the National Sportscasters and Sportswriters Association. He's also been named New England's top radio play-by-play announcer on three occasions by the Associated Press. A native of Pawtucket, RI, he graduated in 1993 from Boston University where he broadcast Terriers hockey from 1991-1993. He then moved to pro hockey with Wheeling of the East Coast Hockey League, doing play-by-play for the Thunderbirds for two seasons from 1993-1995. He spent five years as the radio voice of the Bruins' AHL affiliate in Providence, including their Calder Cup-winning season in 1998-99, in addition to serving as the team's director of broadcasting and communications from 1995-2000. In addition to his play-by-play duties, he has served as a sports anchor and reporter for WBZ Radio and he's also done play-by-play for selected NHL Radio 'Game of the Week' national broadcasts.
Bob Beers – Action Analyst
Bob Beers enters his 19th season as action analyst on Bruins radio. He came to the broadcast booth following an eight-year professional career as a defenseman in the NHL and with minor league affiliates. Drafted by Boston as their tenth pick, 210th overall, in the 1985 NHL Entry Draft, he played three-plus seasons with the Bruins organization before moving to NHL stops in Tampa Bay, Edmonton and the NY Islanders for four seasons. He returned to the Bruins for the 1996-97 season before retiring as a full-time player in August, 1997. He also played parts of two seasons with the Bruins' AHL affiliate in Providence as his radio schedule allowed in both 1998-99 and 1999-2000. Beers is a regular contributor on Comcast Sportsnet New England and WBZ-TV, and has also worked with NHL Radio and national television broadcasts during the playoffs.
day
date
opponent

pregame

faceoff

preseason
Tue
9/19
Detroit

7:00 PM

7:05 PM

Thu
9/21
Philadelphia

7:00 PM

7:05 PM

Mon
9/25
Chicago

7:00 PM

7:05 PM

Thu
9/28
at Philadelphia

7:00 PM

7:05 PM

regular season
Thu
10/5
Nashville

6:30 PM

7:00 PM

Mon
10/9
Colorado

12:30 PM

1:00 PM

Wed
10/11
at Colorado

9:00 PM

9:30 PM

Sat
10/14
at Arizona

8:30 PM

9:00 PM

Sun
10/15
at Vegas

6:30 PM

7:00 PM

Thu
10/19
Vancouver

6:30 PM

7:00 PM

Sat
10/21
Buffalo

6:30 PM

7:00 PM

Thu
10/26
San Jose

6:30 PM

7:00 PM

Sat
10/28
Los Angeles

6:30 PM

7:00 PM

Mon
10/30
at Columbus

6:30 PM

7:00 PM

Thu
11/2
Vegas

6:30 PM

7:00 PM

Sat
11/4
Washington

6:30 PM

7:00 PM

Mon
11/6
Minnesota

6:30 PM

7:00 PM

Wed
11/8
at NY Rangers

7:30 PM

8:00 PM

Fri
11/10
at Toronto

6:30 PM

7:00 PM

Sat
11/11
Toronto

6:30 PM

7:00 PM

Wed
11/15
at Anaheim

9:30 PM

10:00 PM

Thu
11/16
at Los Angeles

10:00 PM

10:30 PM

Sat
11/18
at San Jose

10:00 PM

10:30 PM

Wed
11/22
at New Jersey

6:30 PM

7:00 PM

Fri
11/24
Pittsburgh

12:30 PM

1:00 PM

Sun
11/26
Edmonton

4:30 PM

5:00 PM

Wed
11/29
Tampa Bay

7:00 PM

7:30 PM

Sat
12/2
at Philadelphia

12:30 PM

1:00 PM

Mon
12/4
at Nashville

7:30 PM

8:00 PM

Thu
12/7
Arizona

6:30 PM

7:00 PM

Sat
12/9
NY Islanders

6:30 PM

7:00 PM

Wed
12/13
at Detroit

7:30 PM

8:00 PM

Thu
12/14
Washington

6:30 PM

7:00 PM

Sat
12/16
NY Rangers

4:30 PM

5:00 PM

Mon
12/18
Columbus

6:30 PM

7:00 PM

Tue
12/19
at Buffalo

7:00 PM

7:30 PM

Thu
12/21
Winnipeg

6:30 PM

7:00 PM

Sat
12/23
Detroit

12:30 PM

1:00 PM

Wed
12/27
Ottawa

6:30 PM

7:00 PM

Thu
12/28
at Washington

7:00 PM

7:30 PM

Sat
12/30
at Ottawa

6:30 PM

7:00 PM

Tue
1/2
at NY Islanders

6:30 PM

7:00 PM

Thu
1/4
Florida

6:30 PM

7:00 PM

Sat
1/6
Carolina

6:30 PM

7:00 PM

Sun
1/7
at Pittsburgh

7:00 PM

7:30 PM

Sat
1/13
at Montreal

6:30 PM

7:00 PM

Mon
1/15
Dallas

12:30 PM

1:00 PM

Wed
1/17
Montreal

7:00 PM

7:30 PM

Thu
1/18
at NY Islanders

6:30 PM

7:00 PM

Sat
1/20
at Montreal

6:30 PM

7:00 PM

Tue
1/23
New Jersey

6:30 PM

7:00 PM

Thu
1/25
at Ottawa

7:00 PM

7:30 PM

Tue
1/30
Anaheim

6:30 PM

7:00 PM

Thu
2/1
St. Louis

6:30 PM

7:00 PM

Sat
2/3
Toronto

6:30 PM

7:00 PM

Tue
2/6
at Detroit

7:00 PM

7:30 PM

Wed
2/7
at NY Rangers

7:30 PM

8:00 PM

Sat
2/10
Buffalo

6:30 PM

7:00 PM

Sun
2/11
at New Jersey

6:30 PM

7:00 PM

Tue
2/13
Calgary

6:30 PM

7:00 PM

Sat
2/17
at Vancouver

9:30 PM

10:00 PM

Mon
2/19
at Calgary

3:30 PM

4:00 PM

Tue
2/20
at Edmonton

8:30 PM

9:00 PM

Sat
2/24
at Toronto

6:30 PM

7:00 PM

Sun
2/25
at Buffalo

4:30 PM

5:00 PM

Tue
2/27
Carolina

6:30 PM

7:00 PM

Thu
3/1
Pittsburgh

6:30 PM

7:00 PM

Sat
3/3
Montreal

4:30 PM

5:00 PM

Tue
3/6
Detroit

6:30 PM

7:00 PM

Thu
3/8
Philadelphia

6:30 PM

7:00 PM

Sat
3/10
Chicago

12:30 PM

1:00 PM

Sun
3/11
at Chicago

12:00 PM

12:30 PM

Tue
3/13
at Carolina

6:30 PM

7:00 PM

Thu
3/15
at Florida

7:00 PM

7:30 PM

Sat
3/17
at Tampa Bay

6:30 PM

7:00 PM

Mon
3/19
Columbus

6:30 PM

7:00 PM

Wed
3/21
at St. Louis

7:30 PM

8:00 PM

Fri
3/23
at Dallas

8:00 PM

8:30 PM

Sun
3/25
at Minnesota

7:00 PM

7:30 PM

Tue
3/27
at Winnipeg

7:30 PM

8:00 PM

Thu
3/29
Tampa Bay

6:30 PM

7:00 PM

Sat
3/31
Florida

12:30 PM

1:00 PM

Sun
4/1
at Philadelphia

12:00 PM

12:30 PM

Tue
4/3
at Tampa Bay

7:00 PM

7:30 PM

Thu
4/5
at Florida

7:00 PM

7:30 PM

Sat
4/7
Ottawa

6:30 PM

7:00 PM