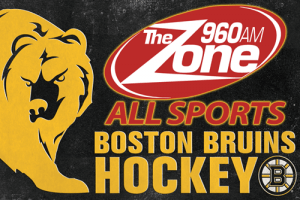 The Boston Bruins skate here on 960 The Zone.  Through out the season, you can get select games on 960 The Zone.  Other games throughout the season can be heard on our sister station 101.3 The Game.
**DUE TO NHL RESTRICTIONS, 960THEZONE.COM IS PROHIBITED FROM STREAMING BRUINS GAMES**
Judd Sirott – Play-By-Play
Judd Sirott enters his third season as the radio play-by-play announcer for the Bruins. In his short time in Boston he's already left his mark: he garnered the Massachusetts Broadcasters Association's Best Play-by-Play award in 2018. Prior to moving east, he spent nine years as the Radio Studio Host for the Chicago Blackhawks on WGN AM. Sirott, along with broadcast partners John Wiedeman and Troy Murray were named "Best Radio Play-By-Play" in the Chicago market at the 2015 Illinois Broadcasters Association Silver Dome Awards.

A native of Arlington Heights, Ill., Sirott spent six seasons in Major League Baseball as a radio play-by-play announcer and host for the Chicago Cubs on WGN AM, while working as a correspondent for the MLB Network. Previously, Sirott called National Hockey League games nationally for HDNet (now AXS TV) and the NHL Network from 2006 to 2009.

Prior to rejoining WGN, Sirott was the television and radio voice of the American Hockey League's Chicago Wolves from the team's inception in 1994 to 2006, also serving as the club's Media Relations Director. Sirott called the franchise's Turner Cup titles in 1998 and 2000, along with its first Calder Cup championship in 2002.

After graduating from the University of Michigan in 1991, where he broadcast hockey and football games as a student, Sirott began his Chicago media career as a weekend producer at WGN AM. Later, Sirott spent three years as a weekend host, field reporter and executive producer at 670 The Score from the station's inception in 1992.
Bob Beers – Action Analyst
Bob Beers enters his 20th season as action analyst on Bruins radio. He came to the broadcast booth following an eight-year professional career as a defenseman in the NHL and with minor league affiliates. Drafted by Boston as their tenth pick, 210th overall, in the 1985 NHL Entry
Draft, he played three-plus seasons with the Bruins organization before moving to NHL stops
in Tampa Bay, Edmonton and the NY Islanders for four seasons. He returned to the Bruins for
the 1996-97 season before retiring as a full-time player in August, 1997. He also played parts
of two seasons with the Bruins' AHL affiliate in Providence as his radio schedule allowed in both
1998-99 and 1999-2000. Beers is a regular contributor on NBC Sports Boston and WBZ-TV, and has also worked with NHL Radio and national television broadcasts during the playoffs
| | | | | |
| --- | --- | --- | --- | --- |
| Day | Date | Opponent | Pregame | Tipoff |
| | | | | |
| Thu | 3-Oct | at Dallas | 8:00 PM | 8:30 PM |
| Sat | 5-Oct | at Arizona | 8:30 PM | 9:00 PM |
| Tue | 8-Oct | at Vegas | 9:30 PM | 10:00 PM |
| Thu | 10-Oct | at Colorado | 8:30 PM | 9:00 PM |
| Sat | 12-Oct | New Jersey | 6:30 PM | 7:00 PM |
| Mon | 14-Oct | Anaheim | 12:30 PM | 1:00 PM |
| Thu | 17-Oct | Tampa Bay | 6:30 PM | 7:00 PM |
| Sat | 19-Oct | at Toronto | 6:30 PM | 7:00 PM |
| Tue | 22-Oct | Toronto | 6:30 PM | 7:00 PM |
| Sat | 26-Oct | St. Louis | 6:30 PM | 7:00 PM |
| Sun | 27-Oct | at NY Rangers | 6:30 PM | 7:00 PM |
| Tue | 29-Oct | San Jose | 6:30 PM | 7:00 PM |
| Sat | 2-Nov | Ottawa | 6:30 PM | 7:00 PM |
| Mon | 4-Nov | Pittsburgh | 6:30 PM | 7:00 PM |
| Tue | 5-Nov | at Montreal | 7:00 PM | 7:30 PM |
| Fri | 8-Nov | at Detroit | 7:00 PM | 7:30 PM |
| Sun | 10-Nov | Philadelphia | 6:30 PM | 7:00 PM |
| Tue | 12-Nov | Florida | 6:30 PM | 7:00 PM |
| Fri | 15-Nov | at Toronto | 6:30 PM | 7:00 PM |
| Sat | 16-Nov | Washington | 6:30 PM | 7:00 PM |
| Tue | 19-Nov | at New Jersey | 6:30 PM | 7:00 PM |
| Thu | 21-Nov | Buffalo | 6:30 PM | 7:00 PM |
| Sat | 23-Nov | Minnesota | 6:30 PM | 7:00 PM |
| Tue | 26-Nov | at Montreal | 6:30 PM | 7:00 PM |
| Wed | 27-Nov | at Ottawa | 6:30 PM | 7:00 PM |
| Fri | 29-Nov | NY Rangers | 12:30 PM | 1:00 PM |
| Sun | 1-Dec | Montreal | 6:30 PM | 7:00 PM |
| Tue | 3-Dec | Carolina | 6:30 PM | 7:00 PM |
| Thu | 5-Dec | Chicago | 6:30 PM | 7:00 PM |
| Sat | 7-Dec | Colorado | 6:30 PM | 7:00 PM |
| Mon | 9-Dec | at Ottawa | 7:00 PM | 7:30 PM |
| Wed | 11-Dec | at Washington | 6:30 PM | 7:00 PM |
| Thu | 12-Dec | at Tampa Bay | 6:30 PM | 7:00 PM |
| Sat | 14-Dec | at Florida | 6:30 PM | 7:00 PM |
| Tue | 17-Dec | Los Angeles | 6:30 PM | 7:00 PM |
| Thu | 19-Dec | NY Islanders | 6:30 PM | 7:00 PM |
| Sat | 21-Dec | Nashville | 6:30 PM | 7:00 PM |
| Mon | 23-Dec | Washington | 6:30 PM | 7:00 PM |
| Fri | 27-Dec | at Buffalo | 6:30 PM | 7:00 PM |
| Sun | 29-Dec | Buffalo | 6:30 PM | 7:00 PM |
| Tue | 31-Dec | at New Jersey | 12:30 PM | 1:00 PM |
| Thu | 2-Jan | Columbus | 6:30 PM | 7:00 PM |
| Sat | 4-Jan | Edmonton | 12:30 PM | 1:00 PM |
| Tue | 7-Jan | at Nashville | 7:30 PM | 8:00 PM |
| Thu | 9-Jan | Winnipeg | 6:30 PM | 7:00 PM |
| Sat | 11-Jan | at NY Islanders | 6:30 PM | 7:00 PM |
| Mon | 13-Jan | at Philadelphia | 6:30 PM | 7:00 PM |
| Tue | 14-Jan | at Columbus | 6:30 PM | 7:00 PM |
| Thu | 16-Jan | Pittsburgh | 6:30 PM | 7:00 PM |
| Sun | 19-Jan | at Pittsburgh | 12:00 PM | 12:30 PM |
| Tue | 21-Jan | Vegas | 6:30 PM | 7:00 PM |
| Fri | 31-Jan | at Winnipeg | 7:30 PM | 8:00 PM |
| Sat | 1-Feb | at Minnesota | 7:30 PM | 8:00 PM |
| Tue | 4-Feb | Vancouver | 6:30 PM | 7:00 PM |
| Wed | 5-Feb | at Chicago | 7:30 PM | 8:00 PM |
| Sat | 8-Feb | Arizona | 2:30 PM | 3:00 PM |
| Sun | 9-Feb | at Detroit | 12:00 PM | 12:30 PM |
| Wed | 12-Feb | Montreal | 7:00 PM | 7:30 PM |
| Sat | 15-Feb | Detroit | 12:30 PM | 1:00 PM |
| Sun | 16-Feb | at NY Rangers | 3:00 PM | 3:30 PM |
| Wed | 19-Feb | at Edmonton | 8:00 PM | 8:30 PM |
| Fri | 21-Feb | at Calgary | 8:30 PM | 9:00 PM |
| Sat | 22-Feb | at Vancouver | 9:30 PM | 10:00 PM |
| Tue | 25-Feb | Calgary | 6:30 PM | 7:00 PM |
| Thu | 27-Feb | Dallas | 7:00 PM | 7:30 PM |
| Sat | Feb-29 | at NY Islanders | 12:30 PM | 1:00 PM |
| Tue | 3-Mar | at Tampa Bay | 7:00 PM | 7:30 PM |
| Thu | 5-Mar | at Florida | 6:30 PM | 7:00 PM |
| Sat | 7-Mar | Tampa Bay | 6:30 PM | 7:00 PM |
| Tue | 10-Mar | at Philadelphia | 6:30 PM | 7:00 PM |
| Fri | 13-Mar | at Buffalo | 6:30 PM | 7:00 PM |
| Sat | 14-Mar | Toronto | 6:30 PM | 7:00 PM |
| Mon | 16-Mar | Columbus | 6:30 PM | 7:00 PM |
| Wed | 18-Mar | at Anaheim | 9:30 PM | 10:00 PM |
| Thu | 19-Mar | at Los Angeles | 10:00 PM | 10:30 PM |
| Sat | 21-Mar | at San Jose | 10:00 PM | 10:30 PM |
| Tue | 24-Mar | Detroit | 6:30 PM | 7:00 PM |
| Thu | 26-Mar | Ottawa | 6:30 PM | 7:00 PM |
| Sat | 28-Mar | Florida | 6:30 PM | 7:00 PM |
| Tue | 31-Mar | at Carolina | 6:30 PM | 7:00 PM |
| Thu | 2-Apr | at St. Louis | 7:30 PM | 8:00 PM |
| Sat | 4-Apr | Carolina | 6:30 PM | 7:00 PM |