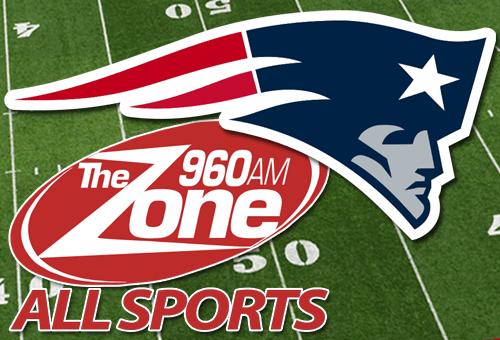 The New England Patriots play here on 960 The Zone.  Tune in all season long for all the action as the Pats make another run for the Superbowl.  Once again Bob Socci and Scott Zolak will be in the broadcast booth.
**DUE TO NFL RESTRICTIONS, 960THEZONE.COM IS PROHIBITED FROM STREAMING NEW ENGLAND PATRIOTS GAMES**
The majority of the games will be on our sister station 101.3 The Game but there will be some some scheduling conflicts with prior commitments.   In the event of one of those scheduling conflicts, you will be able to find the Patriots game here on 960 The Zone.
| | | | | |
| --- | --- | --- | --- | --- |
| DAY | DATE | OPPONENT | PREGAME START | KICKOFF |
| Sun | 13-Sep | Miami | 10:00 AM | 1:00 PM |
| Sun | 20-Sep | at Seattle |   5:30 PM | 8:20 PM |
| Sun | 27-Sep | Las Vegas | 10:00 AM | 1:00 PM |
| Mon | 5-Oct | at Kansas City |   4:00 PM | 7:05 PM |
| Sun | 11-Oct | bye week | | |
| Sun | 18-Oct | Denver | 10:00 AM | 1:00 PM |
| Sun | 25-Oct | San Francisco |   1:30 PM | 4:25 PM* |
| Sun | 1-Nov | at Buffalo | 10:00 AM | 1:00 PM* |
| Mon | 9-Nov | at NY Jets |   5:30 PM | 8:15 PM |
| Sun | 15-Nov | Baltimore |   5:30 PM | 8:20 PM* |
| Sun | 22-Nov | at Houston | 10:00 AM | 1:00 PM* |
| Sun | 29-Nov | Arizona | 10:00 AM | 1:00 PM* |
| Sun | 6-Dec | at LA Chargers |   1:30 PM | 4:25 PM* |
| Thu | 10-Dec | at LA Rams |   5:30 PM | 8:20 PM |
| Sun | 20-Dec | at Miami | 10:00 AM | 1:00 PM* |
| Mon | 28-Dec | Buffalo |   5:30 PM | 8:15 PM |
| Sun | 3-Jan | NY Jets | 10:00 AM | 1:00 PM* |
*: time subject to change