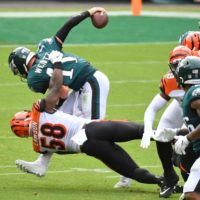 We're not quite through a quarter of the NFL season, but we are suddenly turning the calendar to October. After just three weeks, there's already a handful of surprises, teams that are surging and more that are crashing. Dreams have already been dashed and the leaves are still green. Let's count down the five biggest shockers of September. 
5) Bill O'Brien is not a genius
Most of us knew this already, but maybe now he'll start realizing it, too. O'Brien thought he could trade away one of the best players in franchise history and replace him with a group of lesser (cheaper) parts. It hasn't worked. DeAndre Hopkins was the most valuable asset to a young Deshaun Watson, and the offense has failed to evolve without him. The Texans were handed the toughest opening month in the NFL, and there's no shame in losing to the Chiefs, Ravens and Steelers. The problem is the attack has been lifeless at times in those three games, most jarringly in the second half against Pittsburgh. After halftime against the Steelers, the Texans mustered a trio of three-and-outs and an interception. In a division with 3-0 Tennessee and 2-1 Indianapolis, the mountain is too steep for Houston. O'Brien assembled the offensive line, which hasn't been very good. He picked the running backs, who haven't had big games. He's in charge of scheme and motivation, yet the squad is 0-3. That tells you all you need to know. Maybe ownership will finally question why it handed him perpetual job security. 
4) Russell Wilson has gone to a next level 
He was already one of the best players in the league coming into the season. September, though, put him in rarefied air. His first three games were a stretch to marvel at as he dissected the Falcons, Patriots, and Cowboys. The Seahawks have scored 111 points in those games, the second-best total in the league behind only the Packers. Wilson's deep ball is as pretty as anyone's in the league and also the most effective. It seems insane he's never garnered an MVP vote, but this year is guaranteed to change that. It's a good thing Wilson has played lights out because the Seattle defense has been shoddy. He may be awkward when nicknaming himself, but he's proving to be a future Hall of Famer and still ascending. He was already Canton-bound, but now Wilson is making you stare mouth agape every Sunday.  
3) Dan Quinn is historically great at choking 
You'd think after the most infamous gag in NFL history, the Falcons would find ways to prevent that from ever happening again. Losing a 28-3 lead in the Super Bowl left a deeper scar than any other defeat. Legacies were altered. We would certainly consider Matt Ryan a Hall of Famer with that win. A city's identity would have shifted. Atlanta would have shed its paranoia as a sports town of inevitable heartbreak. But since it happened, Quinn, a defensive-minded coach, should certainly learn lessons from such a horror. The last two weeks have proven otherwise. The historic chokes against the Cowboys and Bears were so breathlessly impossible they were actually impressive. The Falcons held a win probability of 99 percent in each. The defense, Quinn's baby, allowed Dak Prescott and Nike Foles to exploit huge gaps in the coverage. It was as though the Falcons drove a clown car onto the field and the secondary poured out. Quinn now owns arguably the three most painful gags in the last five years of the NFL.   
2) Undefeated Mitch Trubisky lost his job 
It seemed likely Matt Nagy would turn to Nick Foles at some point this season. This summer's tepid support for the former first-round pick portended a change. We could have never known, however, Trubisky would get benched after notching a 2-0 start. His comeback against the Lions and win over the Giants clearly didn't engender much confidence from his coaching staff, but at least they were victories. Midway through a Week 3 slop-fest against the Falcons, Trubisky was sat down. Would you believe the offense came alive under Foles? Maybe some of that has to do with Quinn's pathetic coaching, but Saint Nick rode in on his white horse again slinging touchdowns. How can Nagy now go back to Trubisky? If the staff was willing to bench their No. 2 overall pick at 2-0, they are willing to punt on him for good. The Bears just made their decision on their former franchise quarterback. Emphasis on the "former."
1) Carson Wentz is a puddle
There has been no more shocking crash than the Eagles signal caller. A former MVP candidate has taken a nosedive into the ground. Doug Pederson was so mortified of his offense he played for the tie at home against the Bengals. That tells you all you need to know about trust in the QB. If fans were allowed in the building, it would've been far worse than snowballs thrown at Santa. Another two interceptions against Cincinnati and an 0-2-1 start gives real reason for the staff to consider starting Jalen Hurts. Perhaps Wentz never recovered from watching Nick Foles win the Super Bowl. Maybe drafting Hurts in the second round spooked him. Maybe the pressure of the city melted him. But it's clear Wentz went from one of the best young quarterbacks in the league to a mental nightmare. Can anything save him? It's doubtful with the scrutiny mounting. In a season with plenty of surprises already, Wentz's expiring time in Philly is at the top. 
Damon Amendolara, known by his fans as D.A., hosts "The D.A. Show," from 6:00AM-10:00AM, ET, across the country on the nation's largest 24/7 major-market radio network. "The D.A. Show" is known for its unique perspective on sports, tongue-in-cheek sense of humor, colorful listener interaction, and candid interviews with athletes and coaches. Amendolara also appears regularly on NFL Network as part of the "NFL Top 10" documentary film series, CBS television and SNY TV. He is a Syracuse University grad and native of Warwick, N.Y.