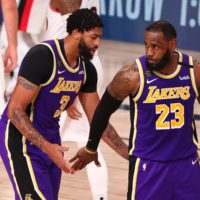 The greatest achievements in LeBron James' storied career were manifested by support. His most regrettable defeats were caused by a lack thereof. The Lakers are inching toward yet another championship to add to the trophy case, and this one would underscore exactly how LeBron's resume has swung back and forth on the pendulum between appreciation and jealousy. Anthony Davis has turned in so many dazzling performances it's no longer a question of whether he is LeBron's greatest teammate. He had a 43-point, 9-rebound, 4-assist clincher against the Blazers. He netted 37 and 10 to open up the West Finals against the Nuggets. Game 1 of the NBA Finals was again AD's schoolyard, as he went for 34-9-5. With all due respect to Dwyane Wade in his prime, James has never teamed with a player as powerful as Davis is right now. 
When asked about this cosmic peanut butter and jelly duo, James shed light on the reason behind it. "Jealousy and envy [have] killed a lot of great things, not only in sports, but in general," he said. "If you're able to just throw your egos to the side but continue to bring that confidence of what you're trying to do — not saying it's that easy — but for us, it's that easy when it comes to our relationship. We're not jealous of each other. I think that's the best thing."
James would know. His most iconic failures happened when egos interceded. The first year of the Heat trio (James, Wade, Chris Bosh) was a tempermental grind. The cast was not comfortable in its roles, thus creating anxiety and doubt throughout. Wade had grown into the King of Miami, complete with a Finals ring, in the years preceding LeBron's arrival. But the import from Cleveland had already established himself as the best player in the league. Should James stand down to Wade? Who should control the locker room? Who should take the last shot? Who would get credit when they won? Who would shoulder blame when they lost? 
The result was a mess. The talent was all too obvious, so much so they ended up in the Finals anyway. But it was a cynical, "us against the world" slog for James. He admitted it was the most miserable year of his career. He no longer had fun playing. He was wearing the black hat, uncomfortable in his own skin. LeBron wanted what Wade had. The adoration and respect that comes with a title. That season ended in an embarrassing loss to an inferior Mavs team, which unlike Miami knew its roles well. The Dallas roster supported Dirk Nowitzki, deferring to him in crunch time, and allowing him to be the lead dog. 
When Wade the following season took James aside and bequeathed the team to him, it was the power shift that was necessary. Wade was not territorial or jealous of the attention that would now be in LeBron's hands. Dwyane knew the only way for the Heat to truly ascend to their potential was to fit together better without ego. The following two seasons were a show of sheer dominance as the Heat played some of the greatest basketball in NBA history, culminating with back-to-back championships. 
In Cleveland, the script followed a similar path. When Kyrie Irving supported LeBron in '15 and '16, the results were unmistakable. Kyrie hit one of the biggest shots in memory in Game 7 to help erase the Warriors. Kevin Love, a whipping boy for the fans and media, stepped up with an enormous final possession defensive play to seal the title. There was no jealousy. LeBron was the alpha male, the unquestioned leader of the team. The rest of the team supported him and understood their roles. The achievement of winning a title was enough to satisfy everyone's desires. It will forever be LeBron's apex, and the greatest moment in all of their careers. 
When Kyrie no longer wanted to be in LeBron's shadow, it went sideways for him. He forced his way to Boston, where his reputation got mangled. His leadership was awful, and Celtics fans couldn't wait to boot him out of town. Kyrie's jealousy of LeBron looks so silly in hindsight (and did at the time). He would never be the player LeBron was, so searching for a place to get out to strike out on his own would only lead to lesser success. Like a teenager who would rather live on a buddy's couch instead of his own room but his parents curfew, it was immature. The effect was felt by LeBron, too. Without Kyrie, the Cavs were good, but no longer great enough to defeat the powerful Warriors. 
"I believe jealousy creeps in a lot, and that is the absolute contrary of what we are," James said. "We know who we are. We know what we're about. We want the best, seriously, every single day both on and off the floor for one another. We're just not jealous of one another. I think that you align that with respect, I think the sky's the limit."
LeBron has seen how good it can be when teammates support one another. He's also experienced how ego and insecurity can topple even the most talented locker room. He's savoring this ride, because Davis and James have proven that supporting one another is the secret to it all. 
Damon Amendolara, known by his fans as D.A., hosts "The D.A. Show," from 6:00AM-10:00AM, ET, across the country on the nation's largest 24/7 major-market radio network. "The D.A. Show" is known for its unique perspective on sports, tongue-in-cheek sense of humor, colorful listener interaction, and candid interviews with athletes and coaches. Amendolara also appears regularly on NFL Network as part of the "NFL Top 10" documentary film series, CBS television and SNY TV. He is a Syracuse University grad and native of Warwick, N.Y.