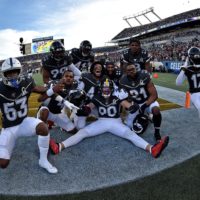 It's hard to blame them. The NFL's very best beat themselves up for four months, then attempt to grind through the rigorous playoffs for a chance at a Super Bowl. For those who fall short of the ultimate glory, we reward them… with one more game. It's nothing more than three hours of entertainment, and a chance to catch up with their peers on the sidelines. The league puts no emphasis on the importance of winning, and the media never uses the outcome to assign historical value. The game just is. It exists in a vacuum, one final rock/paper/scissors before everyone leaves camp. 
The Pro Bowl has been descending into a pit of irrelevance and embarrassment for years. Team Irvin vs. Team Rice? Egads. COVID may have finally put it on ice. Unsurprisingly, the league has canceled this year since it's hard enough to pull off games that actually matter at the moment. The NFL will name players to the Pro Bowl team, but the game will be replaced by a "variety of engaging activities." Assuming this is not in person, we can only assume it's Derrick Henry vs. Josh Norman in a game of Fortnite, or Le'Veon Bell and Jamal Adams swapping Adam Gase stories in a Zoom Happy Hour. 
The league says the game will return for 2022 in Las Vegas, which may be the last gasp to make it enticing for the players. If a comped week in Sin City doesn't draw, then nothing will. But once the precedent is set where rosters are named, and salary bonuses are earned, why would players ever want to play again? We certainly use Pro Bowl nods as a way to establish legacies. They're resume-builders for Canton, media gigs and book sales. The games themselves, however, are never mentioned. 
Once upon a time this was not the case. The financial bonus for players until the 1980s was significant. Once salaries skyrocketed, though, that motivation dried up. There also used to be a conference pride at stake. Just watch the speed and hitting of the '93 Pro Bowl. It will make you wonder what type of alternate universe the game was played in, and why it's largely forgotten. Defensive backs led with their helmets. Quarterbacks scrambled for their lives. The players celebrated the game-winning field goal wildly. None of this seems possible anymore. 
That's because health is on everyone's mind. Players are more in-tune to the physical toll every snap takes. They work out 12 months a year, rolling from home gyms and pliability training, to OTAs and mini-camps. Today's athlete plays football year round, then enters into a 16+ game season hyper-aware of every bump and bruise. You'd be too if your body was worth a $23M signing bonus. Next year they'll be required to play 17 games, plus playoffs. Even fewer will have the appetite for an exhibition game before they fly home for the winter. 
I asked Carolina's all-time leading rusher Jonathan Stewart if being named to a Pro Bowl but not having to play a game is the future. "Yeah, I think that's actually a crucial decision that's being made right now," he said. "The awareness of health is at an all-time high. . . . You're putting yourself at risk of other potential injuries. This might set a trend going forward. I'm pretty sure there's guys that like that idea. Once you [play in] the first one, you're pretty over it." 
Once upon a time playing in the Pro Bowl meant something, but over the last two decades that feeling has dwindled. An increasing number of players opt out. The league has tried everything to keep it going. They've concocted a player draft. Brought in legends to coach. Moved it to the week before the Super Bowl. Added a skills competition, including…dodgeball. The ratings are there so it's still a valuable television product. But these days every attempt to jazz it up feels desperate and silly. The reality is stark. The more real games we ask them to play (expanded playoffs, 17 game schedule), the less fake ones we can (the preseason). It was inadvertent yet inevitable. The COVID cancellation is the beginning of the end of the Pro Bowl. 
Damon Amendolara, known by his fans as D.A., hosts "The D.A. Show," from 6:00AM-10:00AM, ET, across the country on the nation's largest 24/7 major-market radio network. "The D.A. Show" is known for its unique perspective on sports, tongue-in-cheek sense of humor, colorful listener interaction, and candid interviews with athletes and coaches. Amendolara also appears regularly on NFL Network as part of the "NFL Top 10" documentary film series, CBS television and SNY TV. He is a Syracuse University grad and native of Warwick, N.Y.