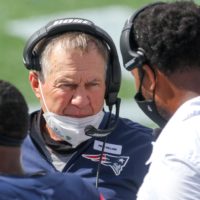 Cam Newton is sad. The usually flamboyant, charismatic charmer mumbles through short answers and sighs. The former MVP, the man who pantomimed pulling open his jersey to reveal a Superman shirt, has no answers. When asked about the interception that sealed the Patriots fate, a third straight loss in a stomping by the Niners, he pauses. He's embarrassed that he has to stop and think about all the picks he tossed in the game. He has no solutions, just like his team. 
"The Patriots don't have a great answer," Boston Globe NFL writer Ben Volin tells me. "This is the lot they've given themselves this year. They didn't really invest in the quarterback position, they let Brady go, they didn't use a draft pick, they didn't really sign anybody in free agency, and they just waited for the last man standing, and they got Cam Newton for minimum money. Maybe you get what you pay for."
The Patriots have never paid top dollar. They have used their success as a cudgel in negotiations. If you want to win, you'll take less to do it in Foxboro, they insisted. They usually won those negotiations. Veterans looking for a championship knew there was no better destination to do so. Players who felt their talent hadn't been maxed out by other organizations had faith Bill Belichick would tap into it. Players from smaller schools or overlooked in college were often targets of the Pats in the draft. It all added up to a locker room full of guys who were pulling in the same direction. A sum greater than their parts. 
They also had one more thing: Tom Brady. 
Sure, there's been supremely talented players in Foxboro. Ty Law, Rob Gronkowski, Randy Moss and Stephon Gilmore were all gifted with Hall of Fame ability. But the essence of the organization's success has always been in a selfless, worth ethic ethos. "Do Your Job." "No Days Off." "The Patriots Way." For 20 years, it has spoken to the idea the Patriots didn't need the most talent. They put in the work and played for a common goal. 
What happens, however, when the results aren't there? How do you convince yourself this process is better than your opponents if there isn't much winning? Newton is a glaring example of that. 
"He is just overflowing with confidence," Volin says. "He's someone who's been there and done that, he's been to the Super Bowl, he's won an MVP. It's hard to have confidence when you get your butt kicked 33-6 and you get benched in the third quarter. He's at least taking responsibility and after every game he says, 'I played terribly, and it starts with me. I have to play better.' It's great that he's taking responsibility for it, but at some point it becomes hollow." 
Which brings us back to Brady. He's slinging it. The Bucs have far more weapons than the Patriots and Brady is taking advantage. Tampa Bay is rollicking, putting up 45 points in a win over the Raiders, then adding mercurial wideout Antonio Brown "for insurance." Meantime, the Patriots' offense looks pathetic. Which is the point. Brady has a series of upscale options he never had in New England. He's walking through Paris with a world-class restaurant on every block, and each meal is killer. It's a luxury. He's used to eating out in Fort Wayne, needing to learn every chef at the three decent restaurants, studying every menu item, and tinkering with the kitchen until he gets it just right. 
The Patriots have done so much with so much less for two decades, it was beginning to seem like it could never dry up. If you hold the secret to creating a winner out of cheap, interchangeable pieces, there would be no end in sight. With the defections for COVID-19, and the overall mediocrity of the roster, that is being challenged more than ever before. Add a quarterback who is missing targets and lacking confidence, and this is a humiliating blend. 
"[They] can barely complete a pass, can barely convert a first down – and it all starts with Cam Newton," Volin says. "He's staring down receivers, he's not seeing the field, he's missing open guys, he's hesitant, he's not throwing with timing and anticipation – Cam Newton has been really the genesis of all their problems."
For 20 years, the Patriots have been impervious to the mistakes of one player, even when that player is Brady. With Jacoby Brissett, Matt Cassel, and Jimmy Garoppolo, they never had a home loss as bad as last week. They never had a three-game losing streak. They were never multiple games under .500 this late in the season. They never trailed the division by this many games. The Pats had a historically great defense for the first three championships. They had Moss, Gronk, Wes Welker, Aaron Hernandez, Julian Edelman and others for Brady to throw to for the last three. But with an underwhelming roster and a quarterback unable to make chicken salad out of chicken guano, the Patriots aren't very special anymore. 
"We're seeing how special Tom Brady was in New England," Volin says, "that Tom Brady could play with these receivers and still win games, that Tom Brady could probably miss some days of practice and still play seamlessly on Sunday. Cam Newton can't do that." Neither can his team, and his coach isn't scheming his way out of this. The Patriots look bad. Their quarterback looks sad. One can only wonder if this is New England's new normal. 
Damon Amendolara, known by his fans as D.A., hosts "The D.A. Show," from 6:00AM-10:00AM, ET, across the country on the nation's largest 24/7 major-market radio network. "The D.A. Show" is known for its unique perspective on sports, tongue-in-cheek sense of humor, colorful listener interaction, and candid interviews with athletes and coaches. Amendolara also appears regularly on NFL Network as part of the "NFL Top 10" documentary film series, CBS television and SNY TV. He is a Syracuse University grad and native of Warwick, N.Y.