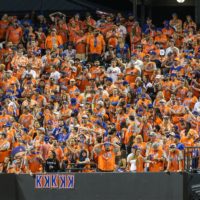 This is an out-of-body experience for us Mets fans right now. We are a battered audience, the type that has tomatoes thrown at us by the performers. We reside in a town where the Yankees' 27 banners are waved in front of our faces every day. When the Mets' frugality prevents them from signing the big fish, the Yankees' deep pockets always get their man. The Mets are the New York tabloids' favorite son offering a never-ending spigot of foolishness and melodrama. We are conditioned to be pessimistic through negative sports radio and an even more caustic social media culture. 
Then, like a bolt of orange and blue lightning striking home plate at Citi Field, Steve Cohen arrived. The lifelong Mets fans has purchased the team, been approved by MLB, and held his first press conference. The story feels written by God in a Tom Seaver throwback. Cohen is worth more money than the top three richest baseball owners combined. He says he's not in this to turn a profit, but instead to "make millions of people happy." He wants to create a model organization with a massive brand like the Yankees, Dodgers, Red Sox and Cubs. Us Mets fans just collapsed like Jason Bay at the warning track. 
Like many painful sports loyalties, we were stuck in a dysfunctional relationship. We were married to a person without much going for them. No job. No ambition. Overweight. In debt. Trashy family. We paid the bills. We were left cleaning the house as they stumbled back home drunk and argumentative. Then, suddenly and shockingly, someone from an *extremely wealthy* family swept us off our feet and only wanted us to be happy. We are suddenly making plans to spend the holidays in the Mediterranean. How did this happen? 
The last decade of sports has given us so many Cinderellas it's like she was developed in a lab by Pfizer. The Cavs broke Cleveland's 50-year championship drought. The Blues and Capitals won the first Stanley Cups in franchise history. The Cubs erased 108 years of pain and torture. Unexpected parades for punchline franchises is the new black. Could the Mets be that next great redemption story? As we say in Queens, "Ya gotta believe." Cohen says he expects to win a World Series in the next 3-5 years, or he would consider it a disappointment. The Wilpons used to consider it a victory if the GM kept his shirt on during bus brawls. 
Ah yes, the Wilpons. That zany bunch of characters that used to run the organization. They combined the leadership style of Mr. Magoo, the spending habits of Ebenezer Scrooge, and the soft touch of RoboCop. If the Wilpons considered this some type of civic trust, they ran it like the Department of Sanitation. Someone had to make sure that trash was taken to the dump. They didn't own it for the aesthetics or joy, instead for the bottom line. Someone had to pay those players and turn on the ballpark lights. Romanticism meant believing you could catch a spot on the packed 7 train without your foot getting clamped every stop by the automatic door. 
Bad owners, really putrid hopeless owners, are the worst parts about sports. Overpaid players will be eventually traded. Moronic coaches will be fired. Gut-wrenching losses fade. But we cannot escape ineptitude and boorishness of the people that own the team. Browns, Bengals, Lions, Marlins, Pirates and Washington football fans know this sinking, rotting feeling well. Can the organization outrun the villain with the hatchet when that villain is in the luxury box every week? It's a maddening cycle of despair. A new season means optimism, but that familiar face of a dysfunctional owner dumps cold water all over it. 
This is why for Mets fans Cohen's ownership is like waking up Christmas morning to the most amazing present your 10-year old brain could conjure. Then your parents tell you it'll be Christmas every day from now on. There's no guarantee the Mets can win a championship in the next few years just because to Cohen a $300M contract is a rounding error. Plenty of free-agent signings go bust (just ask Mets fans about their Bobby Bonilla jersey used as a garage rag). Even the smartest analytic departments and most fertile minor league systems don't automatically deliver wins. But a commitment to making something great is the foreign ingredient we've never tasted in our bouillabaisse. "Wait, you're taking pride in the product?" It's a strange, new world for us. Like a cat curiously walking around a darkened closet, we are sniffing everything to help it make sense. We have fallen into a Wonderland, and this should be a signal for every other tortured fan base to keep the faith. Live long enough, and it may happen to you, too.
Damon Amendolara, known by his fans as D.A., hosts "The D.A. Show," from 6:00AM-10:00AM, ET, across the country on the nation's largest 24/7 major-market radio network. "The D.A. Show" is known for its unique perspective on sports, tongue-in-cheek sense of humor, colorful listener interaction, and candid interviews with athletes and coaches. Amendolara also appears regularly on NFL Network as part of the "NFL Top 10" documentary film series, CBS television and SNY TV. He is a Syracuse University grad and native of Warwick, N.Y.