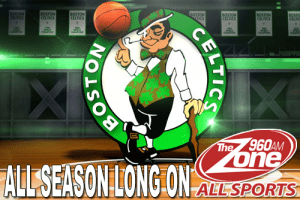 All Season Long, listen to the Boston Celtics on The Zone. Every game, home and away, we're your home for Boston Celtics action in the Champlain Valley.
**DUE TO NBA RESTRICTIONS, 960THEZONE.COM IS PROHIBITED FROM STREAMING CELTICS GAMES**
Sean Grande – Play-By-Play
Entering his 20th year as the voice of the Boston Celtics and 23rd season in the NBA, Sean Grande has become one of the busiest and most versatile play-by-play announcers in the country.

His epic account of the two-month run to the 2008 World Championship cemented his status as one of the nation's elite play-callers.  He's joined by analyst Cedric Maxwell for all Boston Celtics games.  Since shortly after their 2001 pairing, "Grande and Max" have become one of Boston's most popular and iconic on-air combinations, and the soundtrack of the Celtics "New Big Three Era".

A jack of all trades, Grande's also called boxing and mixed martial arts, college basketball and hockey, and has completed the pro sports cycle by calling games in the NBA, NFL, NHL, MLB, WNBA and MLS.

A frequent national guest on ESPN's SportsCenter, SportsNation, First Take and the nation's top-rated podcast, the B.S. Report, Sean's been a regular guest and co-host for the last decade on NBC Sports Boston's Sports Tonight.

Grande, his wife Dana Jacobson, longtime ESPN personality/host of CTM Saturday on CBS News and nine-year old son Jackson reside in Cambridge, MA.
Cedric Maxwell – Action Analyst
Cedric Maxwell enters his 26th season as action analyst on Celtics radio. An integral part of the Celtics' return to glory in the 1980's, Max's twelve-year NBA career began as Boston's first-round draft pick in 1977. An instant fan favorite, he led the team in scoring in 1978-79, and the NBA in field goal percentage in both 1979 and 1980. Max's .609 mark from the floor in 1980 remains the team's all-time record. His NBA career was defined, however, by his performance on the game's biggest stage. He was the Most Valuable Player of the 1981 NBA Finals as the Celtics won their 14th championship, and three years later, he secured his place in Celtics' lore, telling his teammates to "climb on my back" before the seventh and deciding game of the epic 1984 Finals with the Lakers. His 24 points, eight rebounds and eight assists led the Celtics and his last-minute steal from Magic Johnson sealed Banner 15. On December 15, 2003, after sixteen years as a Celtic, eight on the court and another eight in the booth, Max took his rightful place in the Garden rafters when his number 31 was retired and raised to the roof during a halftime ceremony.
| | | | | |
| --- | --- | --- | --- | --- |
| day | date | opponent | pregame | tipoff |
| | | | | |
| | | preseason | | |
| Tue | 15-Dec | at Philadelphia | 7:30 PM | 7:40 PM |
| Fri | 18-Dec | Brooklyn | 8:00 PM | 8:10 PM |
| | | | | |
| | | regular season | | |
| Wed | 23-Dec | Milwaukee | 7:00 PM | 7:30 PM |
| Fri | 25-Dec | Brooklyn | 4:30 PM | 5:00 PM |
| Sun | 27-Dec | at Indiana | 7:30 PM | 8:00 PM |
| Tue | 29-Dec | at Indiana | 6:30 PM | 7:00 PM |
| Wed | 30-Dec | Memphis | 7:00 PM | 7:30 PM |
| Fri | 1-Jan | at Detroit | 6:30 PM | 7:00 PM |
| Sun | 3-Jan | at Detroit | 2:30 PM | 3:00 PM |
| Mon | 4-Jan | at Toronto ** | 7:00 PM | 7:30 PM |
| Wed | 6-Jan | at Miami | 7:00 PM | 7:30 PM |
| Fri | 8-Jan | Washington | 7:00 PM | 7:30 PM |
| Sun | 10-Jan | Miami | 6:30 PM | 7:00 PM |
| Tue | 12-Jan | at Chicago | 7:30 PM | 8:00 PM |
| Wed | 13-Jan | Orlando | 7:00 PM | 7:30 PM |
| Fri | 15-Jan | Orlando | 7:00 PM | 7:30 PM |
| Sun | 17-Jan | New York | 12:30 PM | 1:00 PM |
| Wed | 20-Jan | at Philadelphia | 6:30 PM | 7:00 PM |
| Fri | 22-Jan | at Philadelphia | 7:00 PM | 7:30 PM |
| Sun | 24-Jan | Cleveland | 3:30 PM | 4:00 PM |
| Mon | 25-Jan | at Chicago | 7:30 PM | 8:00 PM |
| Wed | 27-Jan | at San Antonio | 8:00 PM | 8:30 PM |
| Sat | 30-Jan | LA Lakers | 8:00 PM | 8:30 PM |
| Tue | 2-Feb | at Golden State | 9:30 PM | 10:00 PM |
| Wed | 3-Feb | at Sacramento | 9:30 PM | 10:00 PM |
| Fri | 5-Feb | at LA Clippers | 9:30 PM | 10:00 PM |
| Sun | 7-Feb | at Phoenix | 1:30 PM | 2:00 PM |
| Tue | 9-Feb | at Utah | 9:30 PM | 10:00 PM |
| Fri | 12-Feb | Toronto | 7:00 PM | 7:30 PM |
| Sun | 14-Feb | Detroit | 5:30 PM | 6:00 PM |
| Tue | 16-Feb | Denver | 6:30 PM | 7:00 PM |
| Wed | 17-Feb | Atlanta | 7:00 PM | 7:30 PM |
| Fri | 19-Feb | Atlanta | 7:00 PM | 7:30 PM |
| Sun | 21-Feb | at New Orleans | 3:00 PM | 3:30 PM |
| Tue | 23-Feb | at Dallas | 7:00 PM | 7:30 PM |
| Wed | 24-Feb | at Atlanta | 7:00 PM | 7:30 PM |
| Fri | 26-Feb | Indiana | 7:00 PM | 7:30 PM |
| Sun | 28-Feb | Washington | 6:30 PM | 7:00 PM |
| Tue | 2-Mar | LA Clippers | 7:00 PM | 7:30 PM |
| Thu | 4-Mar | Toronto | 6:30 PM | 7:00 PM |