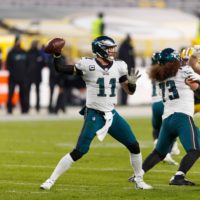 Winning the NFL Most Valuable Player award is extremely significant. It's a pretty remarkable predictor of being enshrined into the Hall of Fame one day. Going all the way back to the Associated Press' first year handing it out in 1957, finding winners who weren't Canton-bound is as scarce as the nights Paul Hornung (MVP '61) went home alone. Jim Brown and John Unitas won the first three, and that set the tone for the next 60 years. Non-legends need not apply. The first 11 years were all future Hall of Famers until the late '60s. Then in succession Earl Morrall, Roman Gabriel and John Brodie won it, three players with good careers but not bronze bust-worthy. Larry Brown followed in '72 as a non-Hall of Famer winning it. In the late '70s and early '80s, Bert Jones, Brian Sipe and Ken Anderson also took home the prize. None are in Canton. 
In 1984, the tide changed back and the award as a historical HOF marker became even more prominent. Dan Marino took it home with perhaps the greatest passing campaign of all-time. From that season until '02, nearly 20 years, a future Hall of Famer won it every time except once. It's a list of the greatest players of that era: Marcus Allen, Lawrence Taylor, John Elway, Joe Montana, Thurman Thomas, Steve Young, Emmitt Smith, Barry Sanders, Brett Favre, Terrell Davis, Kurt Warner, and Marshall Faulk. Boomer Esiason was the lone odd man out, winning in '88 despite never earning a gold jacket. 
From '03 to '14 was another dominant run of Hall of Famers winning the MVP. Peyton Manning, Tom Brady, Aaron Rodgers, Adrian Peterson, and LaDainian Tomlinson were interrupted only by Shaun Alexander. The last three years have been Brady, Patrick Mahomes and Lamar Jackson. Brady is a lock, Mahomes seems likely already, and Jackson is far too early to declare. Through six decades of MVPs, only 13 are definitely never going to make it into Canton. 
This brings us to the 2017 vote. Brady beat out Todd Gurley and Carson Wentz to win his third MVP, but as of early December, it was the Eagles quarterback's to lose. Wentz had come off a solid rookie season to dominate the NFL in his second year. Through Week 13, Philly was 11-2, and he had thrown for 3,300 yards, 33 touchdowns and only 7 INTs. The Eagles had the top seed in the NFC, and he would finish the season as the league leader in TD percentage and QBR. 
Week 14 it all crashed to Earth, though. On December 10, Wentz tore his ACL in a 43-35 win over the Rams. Nick Foles came in and dramatically directed the Eagles to their first Super Bowl championship in franchise history. Three years later, Wentz is a shell of himself. The Eagles are 3-8-1, Jalen Hurts has been named the starter, and questions abound nationally over whether Wentz is officially a bust. Just three years ago, had Wentz stayed healthy, he was on pace to finish with 4,000 yards and 40 TDs, as the Eagles went 13-3. He would've been among the legends. Three years later, he lost his job to a rookie. 
"It's kind of sad. He was close to an MVP three years ago, but the Eagles are just a mess right now," Boston Globe senior NFL writer Ben Volin told me. "He needs to be deprogrammed. You can tell he has no faith in his receivers, no faith in his linemen, and I think that's why clutching the ball so much. That's why he's taken 50 sacks [and thrown] 15 interceptions… It's clear that he's just been mentally wrecked right now as a quarterback. He just needs a break."
Sad. Deprogrammed. Mentally wrecked. These are not the usual terms we throw around for an MVP-caliber talent in his prime. Some of the other QBs to win the MVP may not have made it to the Hall of Fame, but they didn't drown in a sea of insecurity. Brodie. Gabriel. Jones. Esiason. Gannon. They had a wonderful season in a good, but not great career. They didn't collapse after their apex. What happened to Wentz? 
The Eagles' Super Bowl championship with Foles was a wondrous achievement for the city. It did not help Wentz. The storybook playoff run put an astounding amount of pressure on him to replicate it. It also created an immediate division in Philly about which quarterback to choose. The Lombardi Trophy created living mythology out of Doug Pederson and Foles (a statue of them was placed outside the stadium). It may have also given the coach an unreasonable amount of confidence. 
"I'm just a little shocked that Doug Pederson hasn't designed more schemes to be helpful for the offensive line," Pro Bowl receiver Victor Cruz told me. "Why not design more plays to get it to Miles Sanders and get it out of (Wentz's) hands? Throw more screens and keep the defense a little bit more off-balanced. I feel like there's a lot of plays where he's just dropping back and trying to make things happen. It's just not going to work out that way – not just for them, but any team that has offensive line play that isn't consistent."
Injuries and inconsistency on the offensive line have been devastating. It has wreaked havoc on playcalls, the run game, and kept Wentz on the run constantly. The quarterback is either under duress or worried that he will be under duress even when he has a clean pocket. Volin says, "Their offense is so predictable. That's another thing I heard from scouts: the way they line up is the same, they never do pre-snap motion, they're running the same plays over and over – just a very simple, predictable offense right now. It's shocking. This is a team that just won a Super Bowl a few years ago. They have just been an abject disaster."
Is it the roster? Eagles fans have laid into architect Howie Roseman for an offense without much help for Wentz. "The weapons and the people around him haven't been consistent," Cruz says. "Don't make him try to be a hero and hold the ball and make the biggest play every single time he's dropping back." Perhaps all those expectations have warped Wentz's natural decision-making. He may feel like the Super Bowl is riding on every throw, even if it's an October game against Washington. One thing that's evident, though: this is unprecedented in NFL history. There has never been a would-be MVP completely lose it in the middle of his career. Shaun Alexander had an incredible 370 carries at age 28 in '05 and then predictably wore down after that. Rich Gannon was 37 years old when he won, and was injured his final two seasons. Cam Newton has also been battered by injuries since his award five years ago. The closest comparison may be Sipe in '80 who never lived up to those heights the rest of his career. But he was also a 13th-round pick, didn't become the starter until 27 years old, and won the MVP at 31. The resume suggested that would be an anomaly. Wentz was the second overall pick and nearly won an MVP at 25 years old. Greatness was expected. 
There's never been a would-be NFL MVP at such a young age that cataclysmically lost his game, like Rick Ankiel unable to find the plate. Perhaps this is just a confluence of unfortunate events. A fresh start somewhere else. An offseason to work out the kinks. A stable offensive line. A new head coach. Any or all of these might be solutions to bring the old Wentz back. But it feels like a desperate fourth-down pass into the end zone to assume he'll get back to what he was. It would be, indeed, historic. 
Damon Amendolara, known by his fans as D.A., hosts "The D.A. Show," from 6:00AM-10:00AM, ET, across the country on the nation's largest 24/7 major-market radio network. "The D.A. Show" is known for its unique perspective on sports, tongue-in-cheek sense of humor, colorful listener interaction, and candid interviews with athletes and coaches. Amendolara also appears regularly on NFL Network as part of the "NFL Top 10" documentary film series, CBS television and SNY TV. He is a Syracuse University grad and native of Warwick, N.Y.