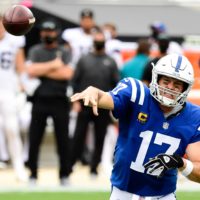 The following piece is not meant to tear down a great career. Almost any player would love to have Philip Rivers' football life. Seventeen seasons. Eight Pro Bowls. Top five in passing yards and touchdowns thrown. A lock for the Chargers Ring of Honor. If this was where the discussion ended, I'd have nothing to add. It was a distinguished career that Rivers should never have to apologize for. 
However, upon his retirement, the rush to put him in Canton has gone into ludicrous speed. This would appear to happen for a few reasons. Rivers was a fun player to cover. He was honest in his self-criticism. He was patient after losses. His folksy trash-talk became an enjoyable sideshow. He was a family man and regular guy. The media ultimately wants to reward a person like that. 
Recency bias is also at play. We just watched him walk off the field after a fantastic final season, throwing for more than 4,000 yards for a playoff team. The press isn't in the mood to rip down that guy. 
There is also something self-important about placing Rivers on a pedestal. Everyone knows Peyton Manning, Drew Brees and Tom Brady belong in Canton. But if you recognize the feats of a player that never even made it to a Super Bowl, you must know your stuff. It's like a record-store employee that can't wait to tell you "Daydream" by Sonic Youth is actually more ground-breaking than the Beatles' White Album. 
As I detailed on my show, let's look at his case closely. This is not to completely shred the idea of Rivers going to the Hall of Fame. This is merely to provide a counter argument. ESPN asked nine of its NFL insiders whether Rivers was a Hall of Famer. All nine said yes with barely any pushback. The answers included "definitely," "absolutely," "of course" and "Yes. Yes. Yes. Yes. Yes." It's not nearly that cut and dried. 
Rivers is fifth all-time in passing yards, and some will say the era of inflated stats shouldn't hurt him. I'd like to hear that same argument made in three seasons when Matt Ryan passes Rivers. Who will be loudly stumping for Ryan to "absolutely" be in Canton? Ryan has one fewer playoff win (5-4) but played in one more Championship Game (2-1) and has a Super Bowl appearance. Suddenly, everyone will blame modern passing attacks for artificially enhanced numbers. Rivers is fifth all-time in passing touchdowns. But by the time he's eligible on the ballot, he'll certainly no longer be that high. Aaron Rodgers will pass him next season (9 behind). If Big Ben plays in '21, he may pass him, too (25 behind). If Ryan plays another 3-4 years, he'd likely pass Rivers (79 behind). Russell Wilson trails by 154 touchdowns, but in 4-5 years is on pace to pass Rivers. Does his resume still resonate as strongly if he's eighth all-time in touchdowns? 
A lot of passes means a lot of touchdowns. It also means a lot of interceptions. Rivers retires tied with the immortal Joe Ferguson with 209 picks, 23rd-most ever. Does winning games matter for a starting quarterback? Many argue that he was blockaded from the Super Bowl in the AFC by Manning, Big Ben and Brady. But let's just look at the regular season. In his prime, Rivers went eight consecutive seasons winning nine games or fewer. Between '10-'17, the Chargers were never better than 9-7, and made the playoffs only once. 
It's not like Rivers didn't have any great chances at the Super Bowl, either. His three best teams were '06, '09 and '18. Those teams won a single playoff game over that trio of seasons. The most powerful team he ever led went 14-2 in '06. In "The Marlon McCree Game" he threw for 230 yards, zero touchdowns and an interception against the Pats at home. Yes, if McCree takes a knee after the interception of Brady, the Chargers advance. That's not on Rivers. But the quarterback came up small as well. Top-seed in the AFC, yet one-and-done. 
Three years later, the Chargers were 13-3 and the 2-seed in the AFC. Again, after a week off an underdog came in and shocked the Chargers. This time the 9-7 Jets put up their feet and enjoyed lounging in Rivers' living room. They forced him into two interceptions and two sacks, as the Bolts put up a measly 14 points. The Jets would escape with a 17-14 victory, again making the Chargers one-and-done after a BYE. 
Two years ago, the Chargers had one of the best teams in the AFC (sound familiar?). At 12-4, they headed to Baltimore in Lamar Jackson's first playoff game. The Ravens rookie was turned upside down, committing three fumbles and an interception. Rivers contributed only 160 yards passing on the day, but Jackson was so bad fans clamored for Joe Flacco to come in. The Chargers survived 23-17, then went to New England and promptly laid a giant egg. Rivers was scattershot, confused, and the Bolts trailed 38-7 nearing the end of the third quarter. Only garbage time stats padded his box score. In four playoff games with the best teams of his career, Rivers came up small. 
There's also no credibility to the argument he didn't have talent. LaDanian Tomlinson is already in the Hall of Fame. Rivers played with him for four seasons. Antonio Gates will be in the Hall one day, and he had him for almost his entire career. Keenan Allen is a 4-time Pro Bowler. Melvin Gordon made a pair of Pro Bowls as well. 
Most importantly, Canton should be reserved for legends. He simply was not a top-five quarterback of his era. Between '04-'20, these quarterbacks had decidedly better HOF credentials: Brett Favre, Kurt Warner, Manning, Brees, Brady, Rodgers. You can spin the wheel of the '04 draft class and make an argument for each being the best (Rivers' arm, Big Ben's wins, Eli's Super Bowls). But at best Rivers is between the seventh- and ninth-best quarterback of his generation. How can we reserve Canton for legends if the eighth-best signal-caller of his era is there? 
Tearing down a great player is not the intention here, even though it reads as such. This is merely to shed a brighter light on what feels to be a breakneck and shallow dive into putting him in the Hall of Fame. 
Damon Amendolara, known by his fans as D.A., hosts "The D.A. Show," from 6:00AM-10:00AM, ET, across the country on the nation's largest 24/7 major-market radio network. "The D.A. Show" is known for its unique perspective on sports, tongue-in-cheek sense of humor, colorful listener interaction, and candid interviews with athletes and coaches. Amendolara also appears regularly on NFL Network as part of the "NFL Top 10" documentary film series, CBS television and SNY TV. He is a Syracuse University grad and native of Warwick, N.Y.