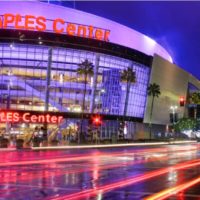 The Los Angeles Clippers announced Wednesday that Kawhi Leonard will miss Game 3 of the Western Conference Finals due to a knee injury.  Game 3 will move to Staples Center on Thursday, after the Phoenix Suns took a 2-0 series lead at home.
Leonard hasn't taken the floor since playing 34 minutes in a 14-point victory over the Utah Jazz in Game 4 of the Western Conference Semifinals. Through 11 games played this postseason, he is averaging 30.4 points, 7.7 rebounds and 4.4 assists.
Game 3 is set for 9 p.m. ET on Thursday to air on ESPN.
Editorial credit: Elliott Cowand Jr / Shutterstock.com